Workflow
Simplify Tumor Motion
Automate 4D Binning, ITV Creation, and Motion Analysis with MIM Workflows™
Streamline the preparation and execution of ITV contouring and gating decision-making while increasing contour accuracy.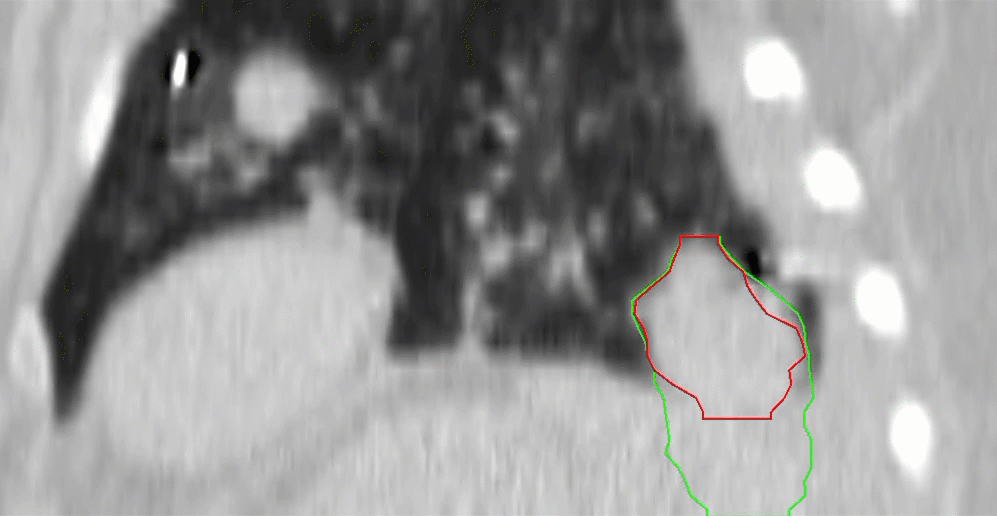 Optionally registers PET/CT to aid in tumor identification and contouring of TVs
Automatically calculates tumor motion statistics flagging distances beyond a configured threshold for improved decision making
Increase the accuracy of ITVs through comprehensive image visualization and a novel contouring technique
Create gated ITVs and MIP images based on tumor motion statistics and proximity to OARs with a single mouse click
Why MIM?
A Paradigm Shift in 4D Motion Management
Recent studies1,2 have shown contouring an ITV on a Max IP underestimates or overestimates the actual tumor size, yet it is still the most used method with traditional systems.
Those same studies show contouring an ITV on the phases of a 4DCT instead results in a much more accurate target volume.
Efficiently and accurately calculating the tumor's total motion is equally as important as it affects critical decisions about the treatment.
MIM Maestro ensures clinics do not need to choose between accuracy and efficiency when accounting for tumor motion.
Peer Reviews
What Clinicians Are Saying...
"
We do a lot of 4D CTs for our thoracic and abdominal patients. I always do those fusions in MIM because I really like how I can see all the different phases and go through the 4D CT for each phase. I can ensure that my target is encompassing the movement of the target through those phases."
Dr. Twisha Verma, Radiation Oncologist
Houston Methodist Clear Lake Hospital
Resources
Download Additional Resources
Get more information on 4D Motion Management using MIM Maestro
Footnotes
Turner, K et al, "SU-E-J-209: A Simple Method to Minimize Uncertainty in ITV Delineation: Phantom Verification," Medical physics vol. 39,6Part9 (2012): 3700-3701. doi:10.1118/1.4735049.

Wang, Yu et al, "Comparison of internal target volumes defined by three-dimensional, four-dimensional, and cone-beam computed tomography images of a motion phantom," Annals of translational medicine vol. 8,22 (2020): 1488. doi:10.21037/atm-20-6246.